24 Hours in Marrakech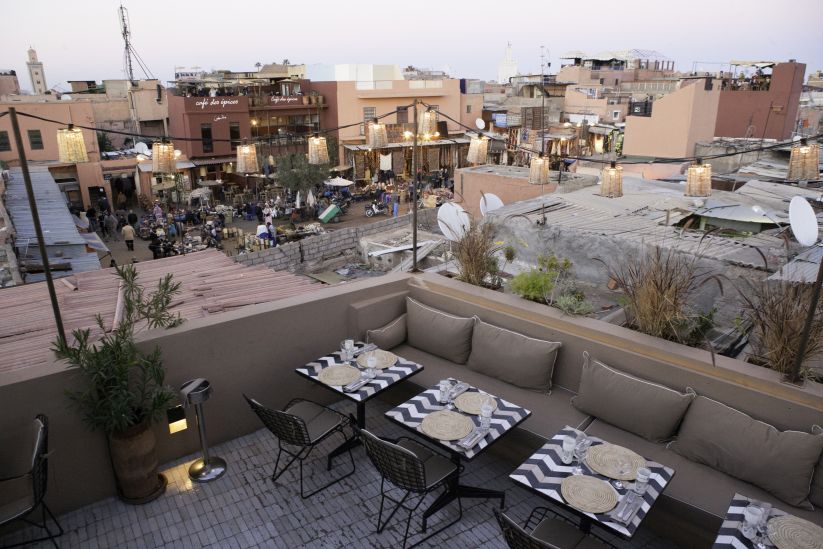 (credit: courtesy of Nomad39)
Morocco's one-time imperial capital, Marrakech is hard and fast. The city is so packed with culture and color that you'd need weeks to soak it all up. To help you make the most of a short trip to this enchanting North African city, here's our guide to 24 hours in Marrakech.
WAKE UP AT DAR WARDA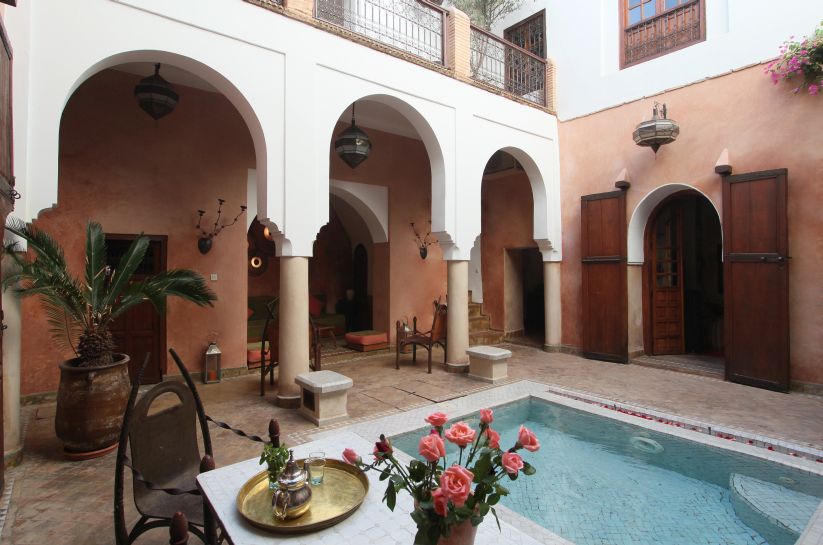 (credit: courtesy of Dar Wada)
There's no more charming place to stay than at a riad, a traditional Moroccan house with an interior courtyard, located in the Medina—Marrakech's historic old city and a UNESCO World Heritage Site. Dar Warda has just five rooms and the entire property is supremely homey. Breakfast is a veritable feast that will fuel you for a day of sightseeing. When the heat becomes too much, retreat to Dar Warda's small elegant courtyard pool.
Address: 266 Derb Sidi Bouamar Riad Laarouss, Marrakech, Morocco
SHOP IN THE SOUQS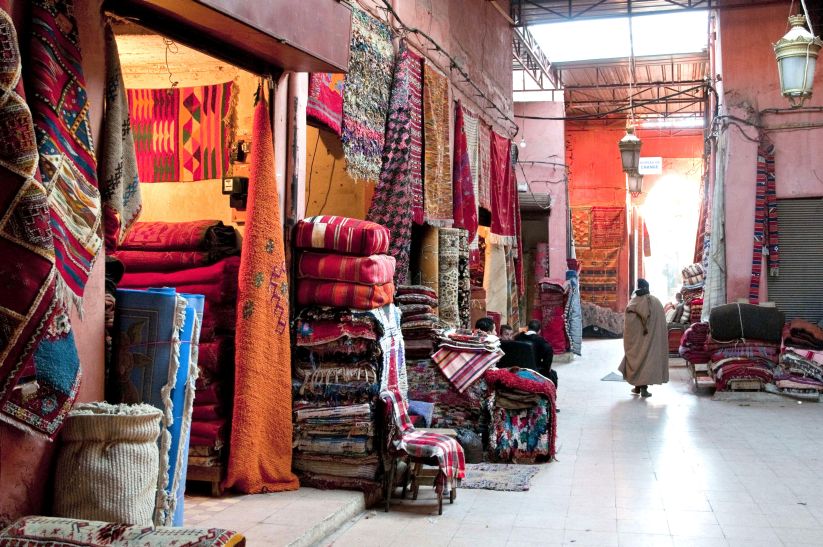 A souq is like a flea market on steroids. Wander through the maze-like warren of stalls selling lovely textiles, carpets, jewelry, antiques, glassware, and spices that you'll be itching to pile into your suitcase. You will get lost in the souq, so embrace it. Two shops of note, which have fixed prices, are Cooperative Artisanale des Femmes de Marrakesh (67 Souq Kchachbia), a women's cooperative selling handmade handbags and caftans, and Al Nour (57 Rue Laksour), a social enterprise shop selling beautiful textiles hand-embroidered by disabled female artisans.
Address: From Jemaa el Fna north to the Musée de Marrakech
VISIT MAISON DE LA PHOTOGRAPHIE AND TAKE TEA ON THE TERRACE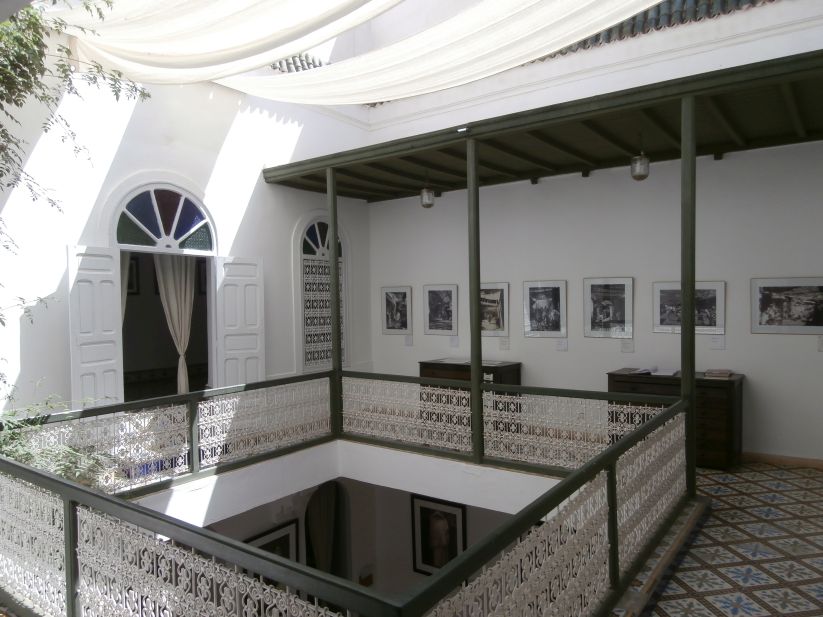 Walk half a mile from the chaos of the souq to the calm of the Maison de la Photographie, the brainchild of Parisian Patrick Menac'h and Marrakshi Hamid Mergani. The gallery showcases the pair's collection of vintage Moroccan photography dating from 1870 up to the 1950s. The museum's terrace offers panoramic views of the surrounding cityscape and makes for a great place to cool off with some Maghrebi mint tea. (If you're super hungry, they make a killer chicken tajine).
Address: 46 Rue Souk Ahal Fassi
LEARN TO COOK [AND EAT] TAGINE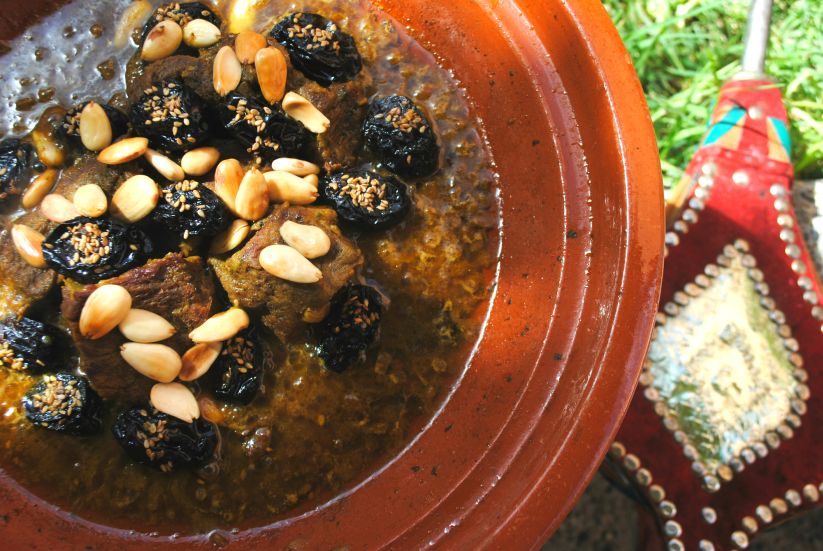 It can be hard to find truly good home-style cooking in Marrakech's restaurants. Just a short taxi ride from the Medina, is Amal, a nonprofit cooking school and restaurant that works to empower disadvantaged local women through job skills-training and placement. At the restaurant, trainees prepare and serve lunch and dinner—moreish tagines, hearty couscous, and dishes like tride au poulet (chicken with lentils on a bed of shredded msemen, a Moroccan-style crepe). If you're curious to try your own hand at making tajine, and we know you do, book a cooking class..
OGLE THE KOUTOUBIA MOSQUE
Though it's closed to non-Muslims, visitors flock to Koutoubia Mosque, the largest in Marrakech, for its lush gardens, and to peek in the north door, which is often left open. Revel at the ornate pattern work and elegant scalloped keystone arches of the 253-foot minaret.
Address: Rue el-Koutoubia at Ave Mohammed V; Gardens open 8am-8pm
EXPLORE SAADIAN SULTAN AHMED EL-MANSOUR'S TOMB
Saadian Sultan Ahmed al-Mansour may have died in 1603, but he knew how to go out in style. His tomb is built of Italian marble and intricate gilded decorative plasterwork and consists of three ornate rooms (yes, three). More than 150 servants and staffers were buried in the garden.  Although Al-Mansour put much thought into the extravagant way in which his body would be kept, it was not to be. A few decades after al-Mansour's death, Sultan Moulay Ismail walled up the Saadian Tombs. They were not uncovered until 1917 when exposed by aerial photography.
Address: Rue de La Kasbah near Bab Agnaou (gate)
STROLL IN THE JARDIN MAJORELLE
This stunning garden took French painter Jacques Majorelle more than 40 years to complete. The result is a dreamy escape from the cacophony of Marrakech. There are marble pools atop which float water lilies, African cacti, banana trees and heady bougainvilleas. The Moorish and Art Deco-inspired buildings are painted a stunning cobalt blue (trademarked by Majorelle as Majorelle Blue) and trimmed in lemon yellow. In 1980, the late fashion designer Yves Saint Laurent and his partner Pierre Berge bought the garden and restored it to its former glory. When Saint Laurent died in 2008, his ashes were scattered here.
Address: Rue Yves Saint Laurent near Avenue Yacoub El Mansour
EAT DINNER ON THE ROOF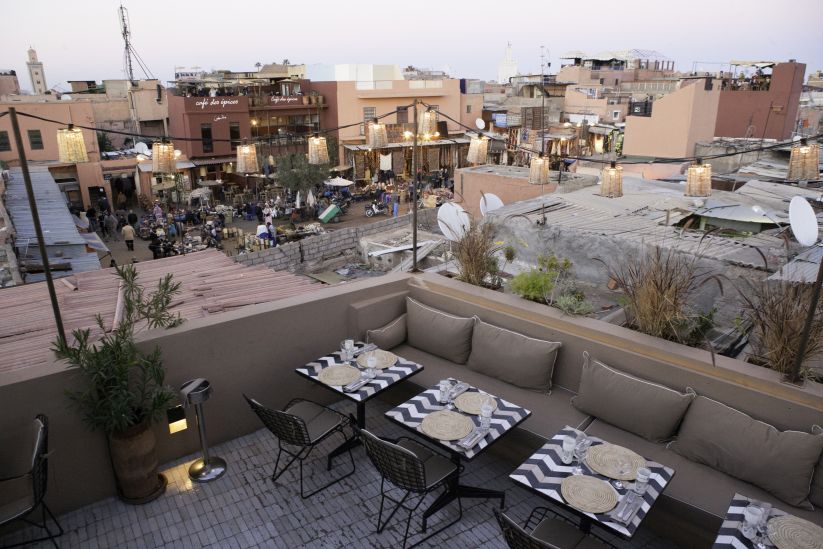 Grab a cab from the gardens back to your hotel. After you freshen up, walk 15 minutes to trendy contemporary Moroccan restaurant NOMAD. NOMAD has two things going for it: tasty food and a rooftop terrace from which you can watch the sun set. To eat, there are the requisite toothsome tagines, fresh dishes like lentil salad with roasted beetroot and local goat cheese, or the heartier chicken brochettes.
Address: 1 Derb Aarjan at Rahba Lakdima
HAVE A NIGHTCAP AT EL FENN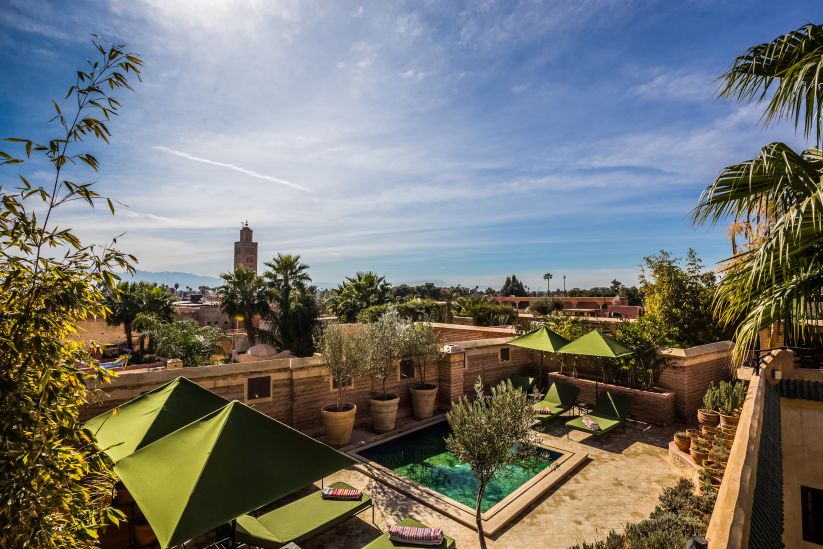 Photo Credit: Saad Alami and El Fenn
The rooftop bar at this 28-room boutique hotel, less than 10 minutes' walk from NOMAD, is the Medina watering hole of choice for Marrakech's fashion set. The hotel, a former palace restored by Virgin founder Richard Branson's sister Vanessa. Settle into the plush sofas and armchairs and sip a glass of Moroccan wine, a mojito, or glass of mint tea. If you're peckish for dessert, you can't go wrong with the macaroons with pistachio fromage frais and red fruits.
Address: 2 Derb Moullay Abdullah Ben Hezzian near Bab El Ksour (gate)
Headed to the Red City? Hit the souqs and gardens in our latest collection of Open Air Market.